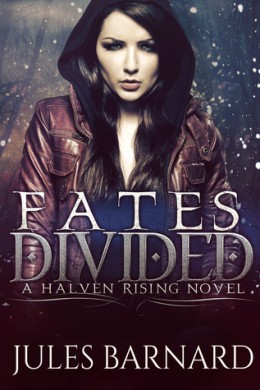 Elena Rosales has busted her ass to get into a good college. She's the only one in her family ever to attend, and expectations are high. No pressure. But Elena's got this one in the bag, because she's as dependable as the molecules she studies, as reliable as the chemical reactions that comfort her in their predictability. Until they don't.
Elena has always wondered why her mother abandoned her on her first birthday. It's not until she turns eighteen and her chemistry experiments go berserk that she learns the truth: Her mother wasn't human, and the Fae are willing to harm those Elena loves if she doesn't use her power over the elements to cure them of a deadly disease. Derek, Elena's brooding neighbor, isn't the friendliest guy, but he has access to an off-hours lab and is willing to help Elena create the antivirus. He has his own secrets to keep, and this business Elena is mixed up in could blow his cover. But when Elena and Derek get together, more than chemicals spark fire-and they soon discover just how complicated attraction can get when they find themselves on the other side of the portal, fighting for survival. Lives collide, and allegiance and love are tested, in
Fates Divided
.
Review- 3.5 Stars
Fates Divided was a pleasurable read. It took me a while to get into it. There were times where things seemed to drag out. I felt that the characters were a little naive for making huge sacrifices without having all the facts.
However as the story started to unwrap things got interesting. The race against time starts as the chemistry between Elena and Derek starts to fizzle. Everything that they know is questioned. Through time they learn that the things that make them different can be sculpted into incredible talents.
This novel takes you on an adventure of new worlds, uncharted territory, danger, and romance.
Will Elena beat the clock and save those that she care about? Or will unexpected enemies stop her?
I loved Derek. There was just something about his sweet yet dominate nature that just drew me in. I connected with him more than any other character in the book. My heart broke for him a few times. I could feel the anguish as things became out of his control.
At around 70% I was so wrapped up in the book that I was kind of disappointed when it ended. But I LOVED the ending. Everything worked out the way that I had hoped for.
*Reviewed by Jessica W.
About Jules Barnard
Before turning to storytelling, Jules earned a master's degree in public health and spent many an hour running statistical analysis–until she realized her favorite part of the job was writing reports. She decided to cut out the math and add in some hot guys, and so began her career as a novelist. Jules is a Northern California native living on the coast with her husband and two children. She has no impulse control around cupcakes and credits herself with the ability to read while running on the treadmill or burning dinner.