The third book in the beloved #1 bestselling author's sexy, romantic suspense Slow Burn series…

They say young love doesn't last, but a girl from the wrong side of the tracks with unique abilities and the hometown golden boy were determined to defy the odds. For Zack Covington, Anna-Grace—his "Gracie"—was the one. Until one night forever alters the course of their future, when a devastated Gracie disappears without a trace, leaving Zack to agonize over what happened to the girl he loved. As the years pass, his desperate efforts to find her uncovered nothing.

Now working for Devereaux Security, he stumbles across a painting featuring a special place only he and Gracie would know. The image is too perfectly rendered for it to be coincidence. His Gracie must be alive. When he finally tracks her down, he is shocked—and heart-broken—to discover the wounded shell of the girl he once knew and still loves. Her psychic gifts are gone, and worse, she believes he betrayed her all those years ago.

Zack has enemies, and once his weakness is discovered, Gracie becomes a target for revenge. He'll have to save her before he can earn her trust and her love. And he vows they'll never be torn apart again.
This book was actually pretty intense. I don't want to give anything away, so I'll just say that there are definitely some heavy subjects touched on and it has its darker moments, this was clear right off the bat, in the first chapter. However, it was a great read and, being my first Maya Banks book, I'll be sure to read more by her.
The first chapter hits you over the head with a little shock, a little heart break, and a whole lot of "wtf?" But, it let me see into Zack's personality very quickly, establishing his character quickly, so that the story could move on. Learning his back story with his dad, and Gracie, etc, just added to the depth.
When he finally runs into Gracie and is confronted with a woman who is utterly terrified of him, and he is at a complete loss as to why, I wanted to reach into the book and hug him. I wanted to cry every time he had to face Gracie's hatred of him without explanation. In fact, after a while I was so frustrated right along with him, that I considered tossing my book at the wall hoping it would smack some sense into Anna-Grace (I didn't!).
Gracie is a tough nut to crack. She is so shy, so insecure, and so terrified, it's hard to get a handle on her as a character. I didn't feel like I really had a chance to get to know her, which meant I couldn't decide if I liked her or not. Eliza really over shadowed her. If it weren't for Zack's determination and devotion, I might have forgotten she was there. Her trauma is completely understandable. She's been through one of the most horrific experiences imaginable. She just could have used a little bit more oomph to keep my attention.
This is the third book in the series, but my first read. While they can be read as standalone books, I'd recommend that you read them in order. I didn't need the detailed background to keep up with the story, but the overall conflict is a continuation, so having read the first to books would probably have made this story more rich and full. The plot is definitely interesting, with just enough paranormal to make it cool but not so much that it is overwhelmingly unbelievable.
The other characters in the book are totally compelling, I finished the book wanting to go back and read the first two, and every interested in reading the next book. Especially if it's about Wade and Eliza. I will definitely be reading that story!
I try not to nitpick with books, but this one had some stuff that broke the rhythm of the story and took me out of the pages into reality. She can be a little repetitive with certain words. But, the most distracting is that she was also repetitive with pieces of information. It was almost as though she forgot she'd already explained it and therefore didn't realize that she was repeating it, almost word for word. This is the main reason it was 4 stars for me, though Gracie was a small part of it as well.
All in all, I would absolutely recommend this book. I'm excited to go back and read the first books, and to continue to follow the series. I've added a lot of Maya to my TBR!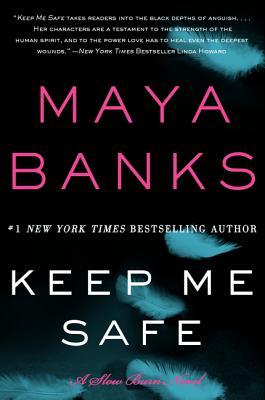 My name is Maya Banks and I live in Texas with my husband and three children and our assortment of pets. I'm more of a cat person, but my daughter became convinced she NEEDED a dog. So convinced in fact that it became her mission to convince her father and me. She prepared a
two page hand written proposal that detailed WHY she needed a dog, and well, after I sent her to her father (I knew he wouldn't tell her no) we embarked on the search for the perfect dog. The journey that was two hours away and that I got pulled over for speeding while I was on the phone with my agent who had an offer from a publisher for one of my books… The officer wasn't impressed. He wrote me a ticket anyway. Thus, I now tell my daughter that her dog turned into one very expensive concession! But isn't he cute?
When I'm not writing, I love to hunt and fish with my family. We all love the outdoors and go on family hunting trips every year. We also love to travel. One of our more recent trips was to Scotland, which was every bit as comical as National Lampoon's European Vacation. You know the part about "Look kids, Big Ben, Parliament" as they went round and round the roundabouts? Yeah, that was us, only we couldn't even get out of the airport in Glasgow without hitting three of those suckers.
Perhaps the most rewarding aspect of a writing career is getting to meet so many wonderful readers. There's nothing better than dishing books with someone who loves the romance genre as much as I do. Romance readers are passionate and vocal. We love our books, love our happily ever afters, and we love to spend time talking to others about our favorites. THIS is why I love my job so much, and I'm so grateful to readers who gave ME a chance when I began my career. So thank you.