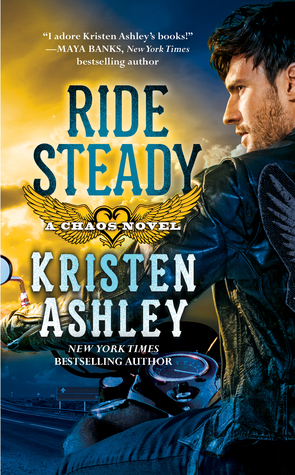 REVIEW- 5 STARS!
Joker can be my steady ride any damn day! What makes this book truly brilliant though? I am not a fan of MC books. IN the past I've been very disappointed. But, Kristen Ashley has made me a believer! There is so much to love about this book, I'm sure I could spend pages and pages listing them all. However, neither of us has that kind of time, and I imagine it would give away a lot of spoilers…
Carson "Joker" Steele has had it rough, and I mean ROUGH. That poor kid had nothing growing up, except two loving neighbors and a crush, to help him survive. Finally, one day he'd had enough and he left that life behind. He went into the world and made something of himself, someone completely new. Now, he's come back to the town he grew up in to settle down, to become a brother in the Chaos Motorcycle Club. As a teen he watched them, often longing to be a part of them, after so long, he is one of them and he finally has a family. Still, it's not enough, he isn't content, but what he really longs for, he doesn't feel worthy of. The girl of him dreams, wife, kids, picket fence (though he'd never admit to it, I'm sure).
Carissa had the life in high school…sort of. She was popular, a cheerleader, dating the handsome football player, and loved by her family. However, she wasn't what you saw on the outside. Carissa lost her baby sister when she was a child, she doesn't really want to be with her boyfriend, but settles because she can't get the guy she really wants to notice her. She doesn't care for her friends, but they are who she is supposed to be friends with, and she is too kind to tell them to stop being judgmental twats.
Life doesn't get a whole lot better when she loses her mom shortly after. She stays with her high school sweetheart because when he loves on her, he is prince charming. And, she forgives him all (and I do mean all) his transgressions. All she ever wanted was to be a wife and a mother. Then one day, she is replaced, kicked out for a younger woman, pregnant, and alone. To make matters worse, her ex appears to delight in making her miserable and destroying what little life she has left.
Until Chaos. Stranded on the side of the road, a scruffy biker is the only one to pull off the road and help a stranded woman with a baby. From there, the story slowly moves from tragedy to one of love and family. Joker finally realizes that he is worthy of Carissa, the girl he has always wanted, and goes after her with determination, not willing to take no for an answer.
There is a whole kaleidoscope of feelings building this story. There is sweetness and love, romance and steamy, steamy sex. There is the raw side of family, and the best side of family, even if it means they are pushy and up in your business. It's because you're loved that they want to be a part of your life. Carissa and Joker are both learning this lesson together, with each other, as well as the people in their life who refuse to be anything but brothers and sisters.
Joker's personality is steady, and yet he is a contradiction sometimes. It's always a hoot to see and gruff, scary man turn into a cuddly teddy bear around a kid, or become romantic with his girl. Of course, this is the case with many of the men of Chaos and it's adorable to watch. Carissa is really cute, with her aversion to swearing and cutesy outfits. However, she's been truly crushed and Joker has to pick up the pieces, but what I liked about her the most was her honesty. It was just fantastic to read a story that wasn't filled with constant angst because one or both of the couple aren't saying what needs to be said. It was refreshing and I truly loved that component of the story.
The secondary characters are some of my favorites and I am headed straight to Amazon to buy the first two books in the series! Elvira is the bomb. That chick is hilarious.
Like I said, I could go on and on, so I'll just stop here and say, READ IT! If all MC books were this awesome, I'd read every single one of them. As it is now though, this book, and I'm sure the whole series, are definitely on my reread list and that means 5 roaring stars!
*Review by Elle Christensen
SYNOPSIS
The ride of her life . . .
Once upon a time, Carissa Teodoro believed in happy endings. Money, marriage, motherhood: everything came easy---until she woke up to the ugly truth about her Prince Charming. Now a struggling, single mom and stranded by a flat tire, Carissa's pondering her mistakes when a vaguely familiar knight rides to her rescue on a ton of horsepower.
Climb on and hold tight . . .
In high school, Carson Steele was a bad boy loner who put Carissa on a pedestal where she stayed far beyond his reach. Today, he's the hard-bodied biker known only as Joker, and from the way Carissa's acting, it's clear she's falling fast. While catching her is irresistible, knowing what to do with her is a different story. A good girl like Carissa is the least likely fit with the Chaos Motorcycle Club. Too bad holding back is so damned hard. Now, as Joker's secrets are revealed and an outside threat endangers the club, Joker must decide whether to ride steady with Carissa---or ride away forever . . .
ABOUT THE AUTHOR
Kristen Ashley was born in Gary, Indiana, USA. She nearly killed her mother and herself making it into the world, seeing as she had the umbilical cord wrapped around her neck (already attempting to accessorise and she hadn't taken her first breath!).
Kristen grew up in Brownsburg, Indiana but has lived in Denver, Colorado and the West Country of England. Thus she has been blessed to have friends and family around the globe. Her posse is loopy (to say the least) but loopy is good when you want to write.
Kristen was raised in a house with a large and multi-generational family. They lived on a very small farm in a small town in the heartland and existed amongst the strains of Glenn Miller, The Everly Brothers, REO Speedwagon and Whitesnake (and the wardrobes that matched).
Needless to say, growing up in a house full of music, clothes and love was a good way to grow up.
And as she keeps growing up, it keeps getting better